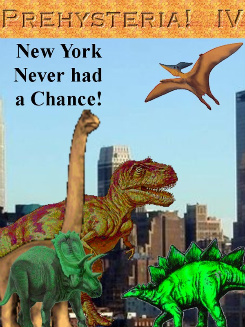 Prehysteria! IV is an upcoming fan film by Saddle Entertainment and Mesozoic Pictures. It will act as a continuation of the Prehysteria Trilogy. This will be released on Youtube.
NO PROFIT WILL BE MADE OFF OF THIS FILM!
Plot Line
Edit
It has been 14 years since we last saw the miniture dinosaurs, and this time they get lost in New York City!
Production
Edit
Prehysteria 4 was first announced in the summer of 2007, and is based on a story by Anthony Feliciano and a subplot by a YouTube user. Brief filming has started, and is aiming for a 2012-2013 release. Unlike the previous films, this will feature CGI animation, and it will resemble as closely as possible the original puppets and models.
As of 2011, the film is still in development with an all new plot.
Filming has begun on location in New York, however, the script is still in development.
Taglines
Edit
New York never had a chance!
You thought it was extinct!
The adventure isn't extinct!
External Links
Edit