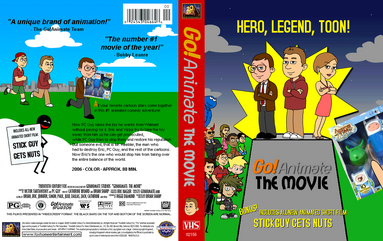 Cartoon All Stars: The Movie (Anime) is a 2017 film about Cartoons Animes and Go!Animate, made by Brian Lee It is around 200 minutes, making it one of the New full Feature length film. It was animated almost entirely on Cartoons Animes Cameos and Go!Animate.
Hands steals a toy and DVD from a store, and Spongebob Patrick Chowder And The Powerpuff Girls try to get him taken to jail. Meanwhile, the All of the Villains tries to get rid of Spongebob, Patrick, Hands, Chowder The Powerpuft Girls and the rest of the cartoons.
Characters
Edit
Spongebob Squarepants
Patrick Star
Chowder
The Powerpuff Girls (Blossom, Bubbles, Buttercup)
Wander
Syivia
Mario and Luigi
Hands
Sailor Moon
Sailor Mars
Sailor Pluto
Black Circle and The Dirty Cartoons
Uncle Grandpa
Belly Bag
Pizza Steve
Mr. Gus
Wubbzy
Brooklyn T Guy AKA Police Man
Lightning McQueen
Mater
Saily
Chick Hicks
Blue
Steve and Joe
Turbo
Eric
PC Guy
Stimpy (cameo)
Professor Z (cameo)
Daizy (Cameo)
Widget (Cameo)
Walden (Speak Cameo)
Andy Panda (Cameo)
Andy Panda's Dad (Cameo)
Sequel and Short Film
Edit
A sequel is in production as a minor project, as Brian Lee's current major project is a Super Mario Bros. Fan Film.
Wubbzy The Hero Is A Short Film Based Of The Wow! Wow! Wubbzy Series.